Why Your Foldable Bike Needs a Pedal Upgrade.
So you have a foldable bike. It folds up small, you can take it lots of places—what's not to love?
Your pedals.
Sure, they came with the bike, and they probably fold up to help make the bike smaller, but . . . well . . . they're clunky. And a bit unstable. And they're no longer your only option if you want to get the most out of your folding bike.
First, let's take a look at the intent and reality of a folding bike pedal.
Why Folding Bike Pedals Exist.
A folding pedal is designed to fold up and reduce the width of your bike when it's in storage or transportation mode. These bike pedals also might help you avoid smacked shins when walking beside your bike.
Most folding pedals are usually made of lightweight materials such as aluminum or plastic and use one of a variety of creative latching mechanisms to reduce their size while staying on the bike.
Problems With Even the Best Folding Pedals
Folding pedals may seem like a good idea, but they do come with their own drawbacks. One disadvantage is that they don't actually make much of a difference in reducing the bike's width when folded. They still stick out more than a few inches from the frame of the bike.
Not only does folding the pedal not save much space, but what's left on the bike is floppy and still has the potential to scratch your shins or bike frame. So neither the primary nor the secondary design goal is met.
And it gets worse. Due to the added complexity of their design, folding pedals are often less durable than regular pedals. They can be more difficult to maintain and more expensive to repair or replace if they break.
That added complexity also translates into a floppier, less sturdy platform while pedaling, which can reduce comfort and lower the amount of power transferred to the bike.
That's a lot of problems! But what can you do about them?
The answer is in an entirely different category of pedals—pop-off pedals–with the same design goal but a better job of realizing those benefits.
What Are Pop-Off Pedals?
As the name suggests, these pedals just "pop off" your bike whenever you need.
Are you worried about hitting your shins or tripping over your pedals when carrying your bike? Or perhaps you need to store your bike in a tight space? Pop-off pedals are designed to be easily removed, making it effortless to maneuver and store your bike without worrying about the pedals getting in the way.
Featuring a simple latching mechanism on the connection shaft, pop-off pedals can be removed within seconds for transporting or storing your bike with maximum convenience. When you are ready to use your bike again, simply push the shaft back into its latch and engage the slider lock. This is an excellent option for getting the ultimate riding experience without any tools.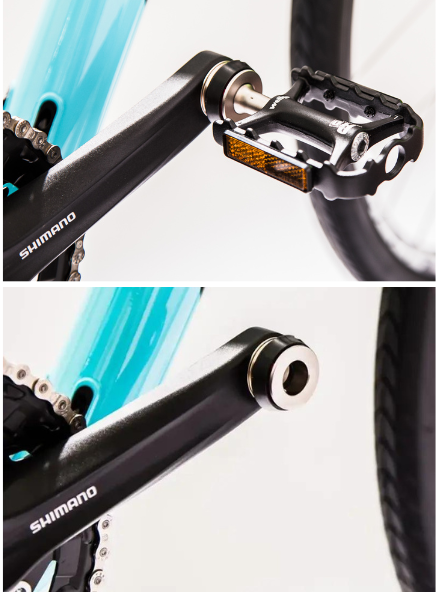 Pop-off pedals can be added to any bicycle, folding or not. This is why they have become such a popular upgrade for owners of all types of folding bikes, from Dahon to Brompton.
Pop-Off Pedals Vs. Folding Pedals
Here are some decision factors to consider when deciding whether an upgrade from folding pedals to pop-off pedals makes sense:
Obstruction. Do your existing pedals (folding or standard non-folding) get in the way when you fold your bike, transport it, or just walk by it?
Comfort. Can you ride for long distances without foot fatigue?
Choice of storage location. Can you make your bike completely flat, to store it truly out of the way, yet conveniently accessible?
Choice of footwear. Can you swap back and forth easily between different types of riding footwear, such as everyday walking shoes and cycling clip-in shoes?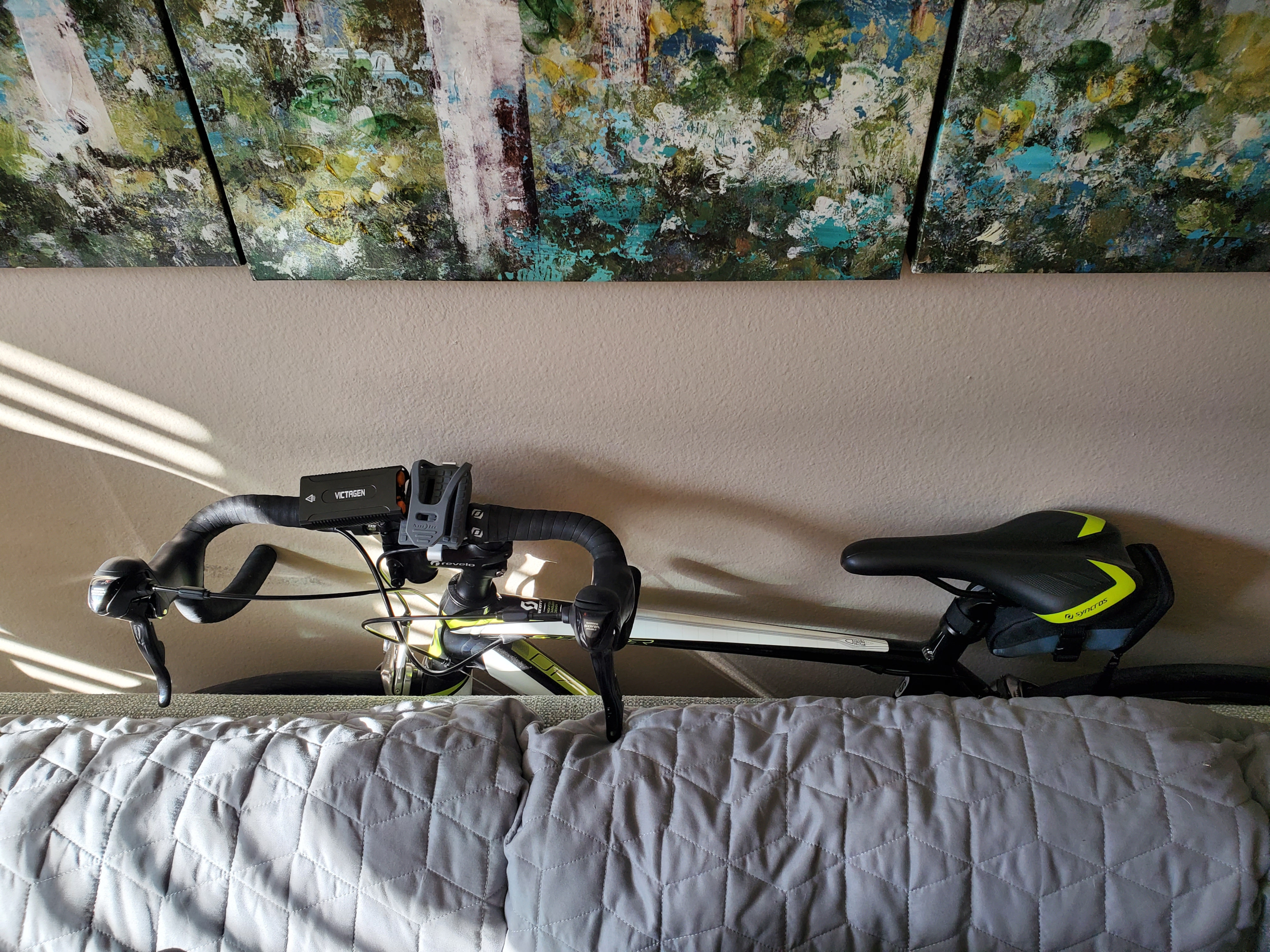 The convenience of pedal choice is important for any bike rider considering a pedal upgrade, folding bike or not.
For instance, commuting cyclists may prefer flat pedals that allow them to easily put their feet down on the ground at traffic lights. On the other hand, mountain bikers might prefer clipless pedals that provide a more secure grip and better power transfer when navigating tough terrain.
Whether you love to conquer mountain trails or prefer exploring the city streets, these quick-release pedals for bicycles will take your cycling experience to the next level. And there are several models of modern pop-off pedals to choose from, as well as other accessories that help reduce the footprint of your bike for storage or transport.
What Are the Different Types of Pop-Off Pedals?
The performance and convenience you can expect from your bike majorly depend on the type of pop-off pedals you use. Pedals power the drivetrain of your bike, meaning it's critical to choose the right type to complement your riding requirements.
Pop-Off Flat Pedals (Typical Road Bike Pedals)
Flat pop-off pedals are the most basic type of pop-off pedals. They have a flat surface where you can comfortably place your feet for everyday riding.
These pop-off bike pedals are fine for beginners and casual riders because they provide a wide platform for your feet, giving you more stability and comfort. Plus, you don't need specific shoes to use them.
Pop-Off SPD Pedals (Use With SPD Shoes)
Need better control and extra power during long commutes or sprints on your foldable bike? Pop-off SPD or clipless pedals offer everything you need to get maximum performance from your bike when you are riding fast.
The pedals click with biking shoes designed for the Shimano SPD clip-in system to give you an edge by keeping your feet on the pedals during the upstroke. Additionally, the design of these pedals results in a narrower bike footprint to fend off any damage during transportation.
Pop-Off MTB Pedals (Mountain Biking and Off-Roading)
Mountain biking is an exhilarating sport, and it requires different kinds of pedals to manage the challenging terrain. Although rare, rugged folding mountain bikes do exist and are stylish, durable, and functional.
Pop-off MTB pedals are specifically designed for mountain biking and have a slightly concave surface that provides more grip and traction for your shoes, even without clip-ins. The protruding studs that stick out from the surface give you a better grip, even when your shoes are wet and slippery.
Usually made of durable materials like forged-steel shafts and aluminum alloy, MTB pedals are perfect for conquering off-road biking challenges with your foldable mountain bike.
No matter the type of biking you do, there's a type of pop-off pedal you can snap on your folding bike within seconds to take ensure your experience is enjoyable and you are well prepared for the specific type of terrain.
» More: A Guide to Space Saving Bike Pedals
Why Go Pop-Off: What Benefits Do These Pedals Offer?
Convenience isn't the only advantage pop-off pedals offer; these pedals revamp your overall biking experience. It doesn't matter if you're a seasoned cyclist or you just bought your first CHANGE bike, you must know about these exclusive benefits pop-off pedals provide.
Change Your Bike Pedals as You Change Your Riding Pattern
Different types of biking require different accessories and equipment. Well, pop-off pedals offer you the ability to switch out or replace your pedals depending on the type of riding you plan to do.
Planning to hit the trails? Snap-on the pop-off MTB pedals. Just need a quick spin around your neighborhood? Pop off the MTB pedals and install the flat pedals. You can change folding pedals in less than 90 seconds!
Your Bike Occupies Less Storage Space
The biggest hassle when transporting a bike is caused by the pedals. Not only do they increase a bike's width, but there's a continuous risk of damaging car seats or the bike rack. The constant scraping can leave many scratches on your vehicle, which is not only inconvenient, but also costly to repair.
However, with the best folding pedals, like pop-off pedals, these issues disappear entirely. Within seconds, you can detach the pedals and fit your folding bike into even the tightest of spaces. Your entire CHANGE bike folds easily, providing maximum storage convenience. If you're looking to make your folding bike more convenient to store in an apartment or hotel, consider our Flatten-Your-Bike kit, which includes pop-off pedals as one of its features.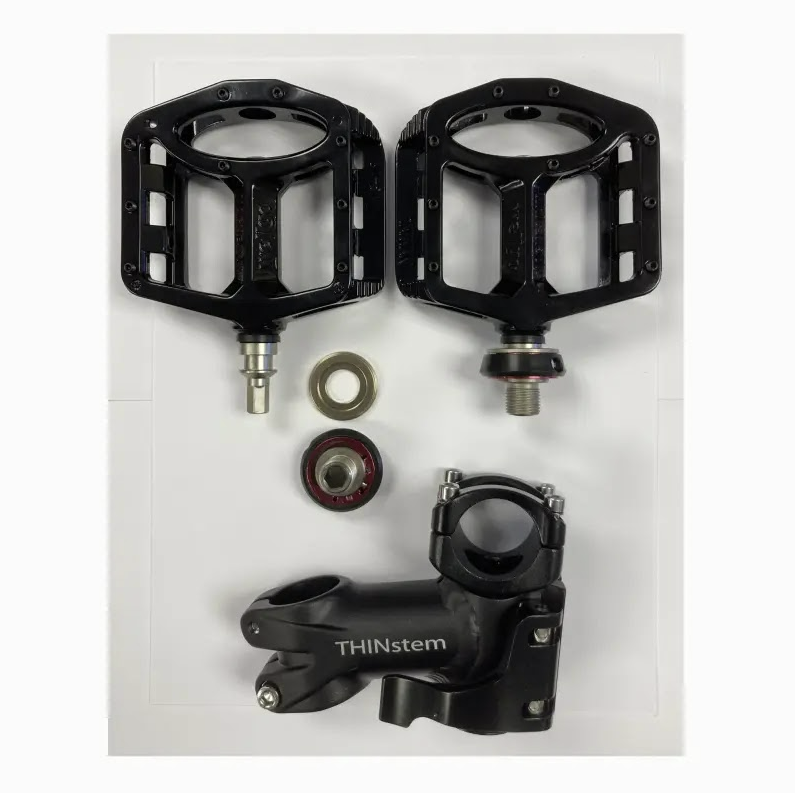 Maintaining Your Bike Becomes a Breeze
As a biking enthusiast, you know regular maintenance is key to keeping your bike in top shape. With standard pedals, maintenance becomes a more difficult task, especially for work involving the crank arm since the pedal blocks access to it.
With pop-off pedals, you can maintain every single component of your bike to increase its longevity. Pop the pedals off your bike, clean/maintain the crank arm, put them back on, and ride!
For every biking fanatic, carrying a few tools is a must. With pop-off pedals, you can shorten the list of needed tools, as the pedals offer a tool-free installation once the latches are installed. You can reduce the weight of tools you carry for an overall improved riding experience.
Factors to Consider When Choosing Special Pedals for Foldable Bikes
Special pedals add more convenience to your foldable CHANGE bike, but to experience all the benefits of pop-off pedals, you must first choose the right pair. Here are considerations to make to ensure the new pedals fit the bill.
If you plan to do a lot of commuting or city riding, you'll need pedals that offer maximum comfort and are lightweight and efficient, like the pop-off flat pedals.
On the other hand, if you are an adrenaline junkie who would love to do more off-road riding, you may prefer pedals with more grip and durability, like the pop-off MTB pedals.
Compatibility With the Bike
Every CHANGE bike model is unique, and so is their crank arm. It's important to choose pedals that are compatible with your foldable bike's crank arms. Flatbike offers pop-off pedals with multiple latch types. Choose the latch type that fits the foldable bike you own.
Not sure what pedals are compatible with your bike? Contact us online or call us at 425-985-6219, and we'll recommend a quality pair of pop-off pedals suitable for your bike and perfect for your riding needs.
Most bikers think it's the tires that withstand major wear, but the pedals get worked hard as well. You'll frequently be popping the pedals off the bike, so it's a must to consider durability. At Flatbike, we understand the importance of durable pedals which is why all the pop-off pedals we offer are made using a combination of 3D-forged steel shafts and aluminum.
Just like your CHANGE bike, the pedals can also last a lifetime, rewarding you with a phenomenal riding experience every time you head out with your bike.
If you are a regular commuter, you prefer comfort, so it makes sense to opt for bigger pedals to get more area to accommodate your foot. However, if you love riding your bike over rough terrains, you'll need more power, and that comes from shorter pedals.
One of the best things about a foldable bike is that you can swap the pedals quickly to make the bike perfect for your riding plan.
With these factors in mind, choosing the right pop-off pedals becomes easier than ever. You can switch them depending on the terrain or your biking needs. The Flatbike pop-off pedals are entirely tool-free – put them on your bike, engage the latches, and you are all set to ride!
Transform Your Ride With Pop-off Pedals – Order Yours Today!
Pop-off pedals can help turn your dream of a versatile bike into a reality. They offer convenience, durability, and flexibility. With the right pair of pop-off pedals, you can enjoy a comfortable ride no matter where you go, what terrain you ride on, or for how long.
If you own a CHANGE bike or any other folding bike, consider investing in pop-off pedals to take your portable adventure to the next level.
Order your pop-off pedals from Flatbike today and revolutionize your cycling experience!
If you're still on the fence about getting pop-off pedals, contact us today to learn more and get expert advice on which pedals are best for your bike and riding style.
---